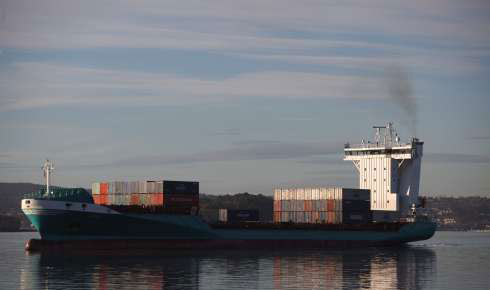 Facts
Key figures Port of Oslo 2011
Number of calls: 4 501
Total cargo: 5,7 Million tonnes
Containers: 208.799 TEU 1,3 Million tonnes
Passengers: 6, 6 Million
More cargo to Oslo
Never before have so many containers taken the sea route to Oslo.
127 000 containers, which is 3.4 percent more than the year before, came across Norways largest container port in 2011, shows the ports traffic figures for 2011.

A total of 5.7 million tonnes of cargo went through the port of Oslo in 2011. A fifth of this, 1.3 million tonnes are consumer goods in containers.

- To carry more of the goods that you and I buy in the stores by sea, is an important national and international goal. We are working to become an even more efficient port. We reach half the population in Norway in less than three hours, says Port Director Anne Sigrid Hamran.

14% more new cars
Port of Oslo is Norway's second largest port in imported cars and a record number of cars came last year by ship to Oslo. Nearly 64,000 brand new cars were shipped to excited new car buyers. This was 8000 more cars than last year, an increase of 14%.

Every week two ships arrives with new cars to Oslo. Audi, Skoda, Volkswagen and Ford are the brands thats arrives by sea.

Cement and concrete for construction industry
Last year, three times as much dry bulk as the year before was transported by tanker to Oslo. This is cement, concrete, grain and salt. Large construction activity in the Oslo area in need of cement and concrete, probably explains much of the increase.

The Port of Oslo handled also 130,000 tonnes of salt in various forms to be used both in our food, and on the roads.
In 2011, much food grain was imported to Oslo because of a poor Norwegian grain harvest.
In all shapes and sizes
The Port of Oslo can handle cargo of all shapes and sizes. From iron scrap, paper to house modules. This type of cargo represents about four percent of all the goods.

Oslo - a major oil port
Oslo is a major oil port and 2 million tonnes of oil goes through the port annually. 284 tankers arrived in Oslo last year with an average of 7300 tons of oil in the tanks.

More and more cruise to Oslo
In 2011, we set a new cruiserecord by almost 20 percent more passangers. 174 cruiseship came to Oslo. Over the last ten years, the number of cruise passengers to Oslo are more than tripled.

Popular ferries to Denmark and Germany
Travelling by ferry to and from Oslo are popular. Oslo has three daily ferries to Denmark and Germany. 2.3 million passengers traveled on international ferries last year, an increase of 2.3 percent.

Local ferries
Many people travels on Oslo's local ferries. Just under three million people traveled between the nabour community Nesodden and Oslo last year.
Nearly 140,000 took a trip out on the nearly 100 charter boats that take people out on the fjord. And a million people took small ferries out to the lovely islands in the Oslo Fjord.