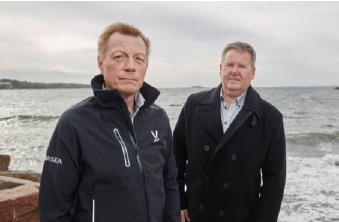 Norwegian newcomer with new service
The newly established Norwegian company Viasea Shipping will go into regular service between Rotterdam, Oslo and Moss, and is the only operator offering a complete shortsea concept.
The first boat will arrive in Oslo 7 November.
The container company's primary market will be Norway and the Benelux, but Germany, Northern France and the UK are also important markets for the company.
Viasea Shipping will have headquarters in Moss and a branch office in Rotterdam, the Netherlands.
An important part of the company's business concept is to avoid large and busy terminals and offer freight companies to deliver and pick up goods at the dock. CEO of Viasea Shipping, Morten Pettersen, strongly believes in the concept.
- In the current market there is room for a small company with a high level of service. There is great potential in moving freight from the roads to the sea and we will make it easier to choose the environmentally friendly option of transporting goods by sea, says Mr. Pettersen in a press release.
The company has a fixed itinerary and will arrive at the container terminal at Sjursøya, which is operated by Yilport Oslo, every Monday.
The Oslo Port Authority wishes Viasea Shipping and other companies that want to transport goods by sea the best of luck and welcome to Oslo harbor.