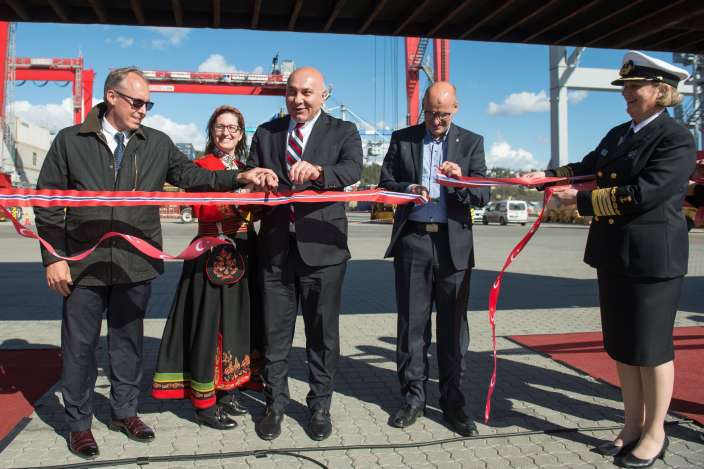 Yilport Oslo - official opened
Norways leading container terminal was official opened on 21`th of April.
The terminal was opened by Oslos vice mayor, Geir Lippestad og Robert Yüksel Yildirim, president Yildirim Group.
Mr. YILDIRIM went onto state that "YILPORT has the goal of becoming a Top 10 global port operator by 2025. Oslo is key to our overall success and the realization of this goal as it is the 'beta site' for the international deployment of our cutting edge technologies and systems. Many of the employees at Oslo will be instrumental in our expansion efforts around the globe and this opens up new opportunities to advance their careers."
Port of Oslo – is rigged for environmentally friendly growth. Norway largest port for goods, Sydhavna, has been through a major transformation and developed new facilities at a high pace – ready to
receive and handle twice the amount of goods we see today.
Oslo is on of Europe's fastest growing capitols. By 2030 it is envisaged a 30% increase in the population from today. Port of Oslo will keep up with this growth and ensure transport of goods to the population. Approximately 80% of the goods arriving in containers are destined for Oslo and it's near area.

Coulored cranes
The Port of Oslo containerterminal is built with emphasis on aesthetics and architecture. There has been an extensive demolishing of old harbour sheds and high standards demanded on new sheds and buildings. The very special shed at Kneppeskjær was designed by well known architects and has, with its special characteristics, become a landmark in the port. The modern garage and office building at Sjursøya was
one of the candidates for Oslo Architectural Prize in 2014.
The colours of the new ship to shore cranes are specially designed to blend in with the surroundings, but at same time they are clearly visible and have created a new skyline in the city.
The Port of Oslo is close to the city. Now, all the ship operated container handling is concentrated at Sjursøya, further away from near neighbours. New measurement and analysis show that Sydhavna (name of the south Port area) and the containerterminal operates within the strict noise limitations.

Terminal equipment, ship to shore cranes and stacking cranes are amongst the world's foremost modern designs of zero-emission cranes, electrically driven and built to minimise noise. The reduction of noise levels will be important and the aim also in the future.
Large infrastructure- project
Over the last decade there has been excavated, demolished and constructed at a rapid pace. Large number of oil tanks have been removed and the oil port area reduced to a third. New quay of
665 m has been built, the containerterminal has grown to 20.000 m2 with concrete floor, same size as 3 football fields, and 2 major transformer units delivering power to the electrical cranes - an amount equal to the delivery
of electricity to 1000 households.
A new and efficient access to the port via 4 ramps on a flyover on the E-18 Mosseveien connects the harbour directly to the national road system.
Contact:
Port of Oslo : Port Director Anne Sigrid Hamran mob 917 04 995
Yilport Holding: Eryn Dinyovszky, General Manager Nordic Region mob + 46 733 80 0127 /91915 589
Facts Yilport Oslo:
*Operator: Yilport Oslo (from 2. February 2015)
* 137 daa
* Capacity: 300 000/350 000 TEU in 2016 (450 000 TEU fully developed)
* Cranes / equipment: 4 STS and 8 RTG
* Quay: 665 metre
* 9 calls a week
* Total TEU in 2015: 195.460