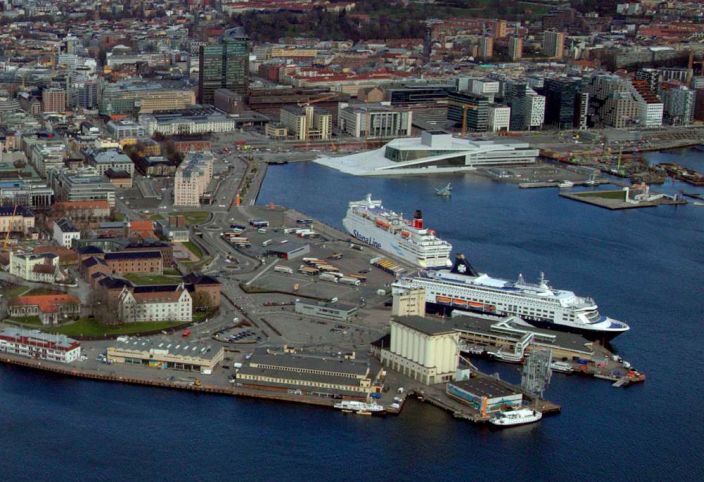 Dialog conference onshore power 23 June
Port of Oslo are taking the environment seriously and invite the market to help find the best solutions for onshore power.
The Port has received nine million NOK in Enova support to build onshore power system for international ferries on Vippetangen. The purpose for the conference is to receive input on future-oriented solutions that can solve several needs.
Time: 23 June 2017 kl. 10 to 15.00

Registration deadline: June 11 - http://www.oslohavn.no/no/aktuelt/Dialogkonferanse.b7C_wlHW0B.ips

Contact: Bjørn Jarli, purchasing manager at the Port Authority, Email: bjorn.jarli@ohv.oslo.no

Port of Oslo can help the city to achieve its environmental goals. Such as the transport of goods and freight from road to sea to reduce traffic jams, greenhouse gas emissions and improve city air. Meanwhile, maritime
transport will be even more environmentally efficient. We believe in partnership and dialogue on practical solutions to move towards zero emissions and make maritime transport more competitive.
"My expectation is that dialogue conference will show us the technological possibilities and the costs and environmental effects they bring with them," says port chairman, Roger Schjerva.
The Dialog conference will be located in a central location of the Port. At this conference, the Port invites to dialogue about more flexible shore solutions. At the same time we open up for input on future ships and needs, and how the port can facilitate this. Providers will present their solutions to the mainstream shore power plants and possible multi-purpose solutions in the long term.
For more information see case study for dialogue conference. The Port Authority Board treats a case concerning the establishment of shore power on 15 June 2017. Any guidance from the Board may change. All shared oslohavn.no.
The invitation was announced on Doffin and TED and may well be subdivided to subcontractors and others. It is expect high demand for the event.. The participation of relevant suppliers will be prioritized. There is a limit
of 2 people from each vendor, and we ask for a binding registration for all participants. We confirm if you have been accommodated a week before.
Implementation of the dialogue process

To ensure equal treatment, transparency and predictability in the process, the invitation will be announced on Doffin and TED as a guiding statement. Participation in the dialogue conference and answers to this invitation will not commit any of the parties in relation to a planned subsequent procurement.
The intention of the dialogue conference is to provide a good basis for the final requirement specification.
Port of Oslo has a good dialogue with the users on Utstikker 2. Any contact prior to the dialogue conference should be via Port of Oslo The shipping companies participate in this process and we can collect and answer questions along the way.

Preliminary Agenda

1. Introduction and welcome.

2. Solutions for power to ship and possible multi eventually in Low-emission port.

3. The ship-owners possible vessels for future and docks as facilitator.

4. Vendors who wish get five minutes each to introduce themselves and their solution. Presentations will be sent no later than 19 June.

A written summary of the meeting will be prepared, which is generally available on oslohavn.no.

All presentations from the meeting will thus be publicly available
The conference will be in Norwegian, but with necessary adjustments for foreign participants.

Well met!