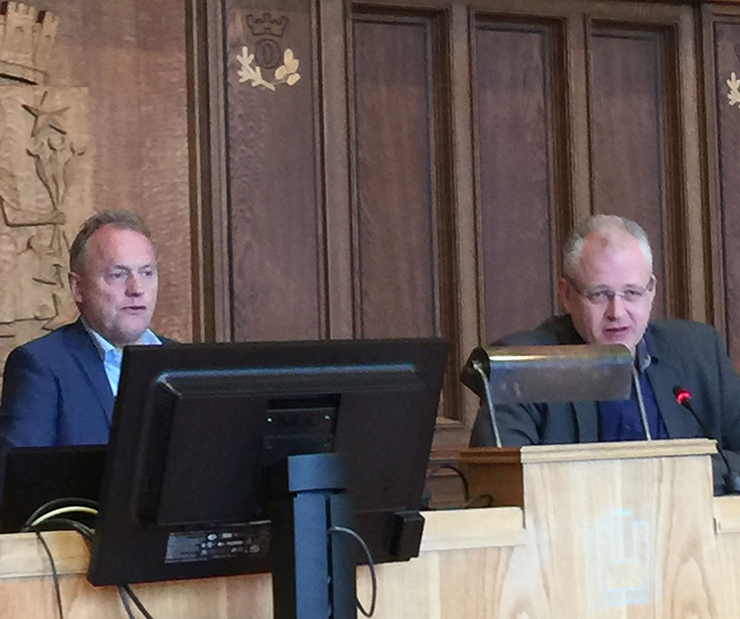 Joint work against social dumping
Port of Oslo and the City Government in Oslo stand together in the fight against social dumping.
Wishing for a good and open dialogue, Governing Mayor, Raymond Johansen and Vice Mayor for Business Development and Public Ownership, Geir Lippestad, invited the stakeholders in the Port to a dialogue meeting on Friday, 13 October.
- The City Government actively works to prevent social dumping. The purpose of the meeting is to prevent social dumping in the Port of Oslo, said Raymond Johansen.
Geir Lippestad reported on claims of social dumping in the port. Seamen had supposedly been engaged in dock work and ILO Convention 137 been broken.

- I propose that we join forces on suspicion of social dumping. We want a serious working life, and all actors in the port want the same. Therefore, we must promote a good and open dialogue for preventing social dumping.
Clear expectations
Most port operators are customers or tenants of the port of Oslo.
- Operators in the port who do not comply with laws and regulations may risk losing their lease. We expect port operators not to engage seamen for dock work without agreement with the Norwegian Seafarers' Union. On suspicion of social dumping, we encourage everyone to report to the The Norwegian Maritime Authority, said Roger Schjerva, chairman of the Port of Oslo board.
He pointed out that the board of Port of Oslo has agreed the ILO Convention 137 to be followed, but there are room for different interpretations of the convention. It is the Norwegian Governments task to explain how the convention shall be implemented in Norway.
ILO Convention 137 concerns the organization of cargo handling in the ports. Dock workers are not employed at the Port of Oslo.
The International Transport Unions Federations Coordination Committee in Norway, agreed on Monday, October 16, to declare Port of Oslo as a port of convenience. To this end, Chairman Roger Schjerva in the port of Oslo pronounce this as totally unreasonable, as the port of Oslo and the City Government has used all means to prevent social dumping.
Picture: City Government leader, Raymond Johansen and the chairman of the port of Oslo, Roger Schjerva at the meeting with the operators in the port of Oslo.