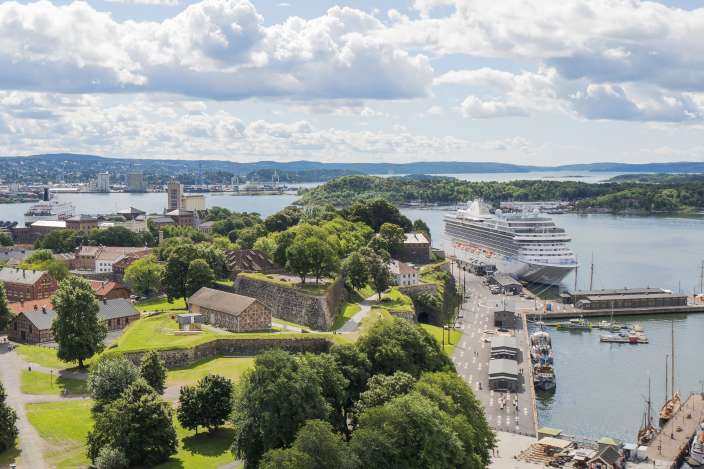 Rewards environmentally friendly cruiseships
Norwegian ports have a strong focus on the environment and the largest cruise ports in Norway has agreed upon a model for a future Environmental Port Index (EPI).
Our goal is to use economic incentives for ships with the lowest environmental footprint in our ports.
While many Norwegian ports use the Environmental Ships Index (ESI) today, the EPI will focus on emissions from ships while at berth. Also, few of the ships visiting our ports today are registered with ESI which makes the Index less efficient. Port of Bergen has therefore taken the initiative towards the other Norwegian cruise ports to develop the EPI.
One of the goals of the EPI is to visualize the good work the ships already do to reduce their emissions and their environmental footprint.
Even Husby, Head of Environment at Port of Bergen says: "The ports signed the agreement in June 2017, and after our second network meeting we have agreed on the way onwards. This autumn we will continue work with DNV-GL to develop the model further".
Current participants in the project are Port of Bergen, Port of Stavanger, Port of Oslo, Port of Aurland/Flåm, Port of Stranda/Geirangerfjord, Port of Ålesund, Port of Molde & Romsdal, Port of Trondheim, Port of Eidfjord, Cruise Destination Hardangerfjord, Port of Tromsø, Norwegian Ports Association, Innovation Norway and The Norwegian Coastal Administration.
- I am very pleased that so many actors agree on a model to calculate the environmental impact of ships. The aim is that the model helps the shipping companies become more environmentally conscious. Port of Oslo will increase the cruise traffic to the city and welcomes the most modern and environmentally friendly ships. Many cruise ships has currently very good treatment plants. But as one of three ports in Norway, Oslo also has a good offer for cruise ships without the best treatment plants. Now they can pump wastewater directly into the municipal sewage system. This is the result of a very good cooperation with the municipality of Oslo municipality's water and wastewater. It's modern, efficient and environmentally friendly, "says Ingvar M. Mathisen, Port Director in Oslo. He is also chairman of Cruise Norway.
Contact information:
Mr. Even Husby, Head of Environment, Port of Bergen
Phone: +47 45182019
E-mail : even.husby@bergen.kommune.no